UFC Heavyweight
Cohones
MMARocks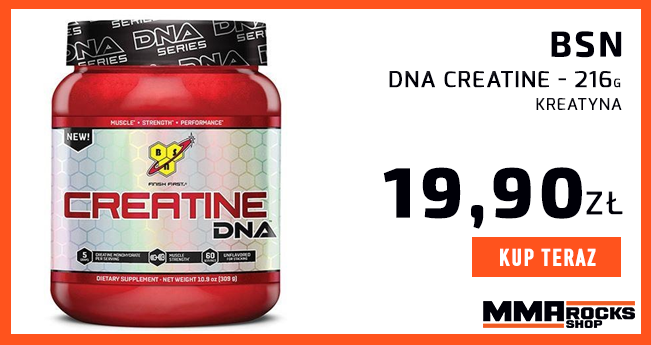 Od kilku lat BSN jest jednym z głównych sponsorów Conora McGregora. Dziś w naszym Sklepie MMARocks proponujemy Wam kreatynę od tego właśnie producenta.
Kreatyna DNA
dostarcza 3,4 gram mikronizowanego monohydratu kreatyny. Wspiera siłę, regenerację i wydajność mięśni poprzez resynteze ATP. Monohydrat jest to najbardziej znaną i najpowszechniej stosowaną formą kreatyny. Jej działanie polega na przeniesieniu ze sobą dużej ilości wody do tkanki mięśniowej co sprzyja wytworzeniu odpowiedniego środowiska anabolicznego. Jest szczególnie polecana dla początkujących osób które zaczynają dopiero przygodę z suplementacją kreatyny.
Sam McGregor o produktach BSN wypowiedział się w następujący sposób: "Nie mogę iść na skróty w tym co robię. Musisz podążać za tym co najlepsze w danej dziedzinie, a uważam, że BSN przoduje w suplementacji dla sportowców. Przekraczają bariery w polu w którym działają, tak jak ja je przekraczam w moim sporcie. To więc idealne partnerstwo".
http://www.mmarocks.pl/sklep-mmarocks/bsn-dna-creatine-216g-19-90-zl-naszym-sklepie-mmarocks