UFC Heavyweight
Cohones
MMARocks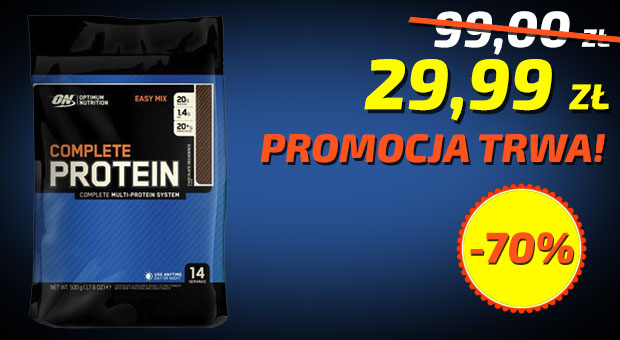 Wyprzedażowe białko Complete Protein wróciło na Sklep MMARocks! Poprzednia edycja została całkowicie wykupiona! Nowa partia wskoczyła nam na magazyn i jest ponownie dostępna dla kupujących! Kup już teraz!
Optimum Complete Protein
to zaawansowany matrix białkowy. Każda porcja Optimum Complete to połączenie białek mleka, serwatki i białka jaja z kazeiną. Universalne białko Optimum doskonale działa anabolicznie, a także regeneracyjnie - doskonałe do budowy masy mięśniowej. Complete Protein to odżywka o szerokim zastosowaniu, szczególnie u osób trenujących kulturystykę i fitness, a także u sportowców będących w trakcie zwiększania masy mięśniowej.
zawiera 6 frakcji białka

kremowy smak i konsystencje

idealne zarówno na dzień, jak i na noc

szybka regeneracja mięśni

http://www.mmarocks.pl/sklep-mmaroc...plete-protein-sprawdz-okazje-sklepie-mmarocks